The first Columbia opened in the Santa Clara park in 1976 and the Gurnee Columbia opened later that year. The carousel is known as Carousel Columbia at California's Great America and Columbia Carousel at Six Flags Great America. In 1994, Santa Clara's Columbia received some minor renovations for its appearance in the movie Beverly Hills Cop III, filmed at the theme park.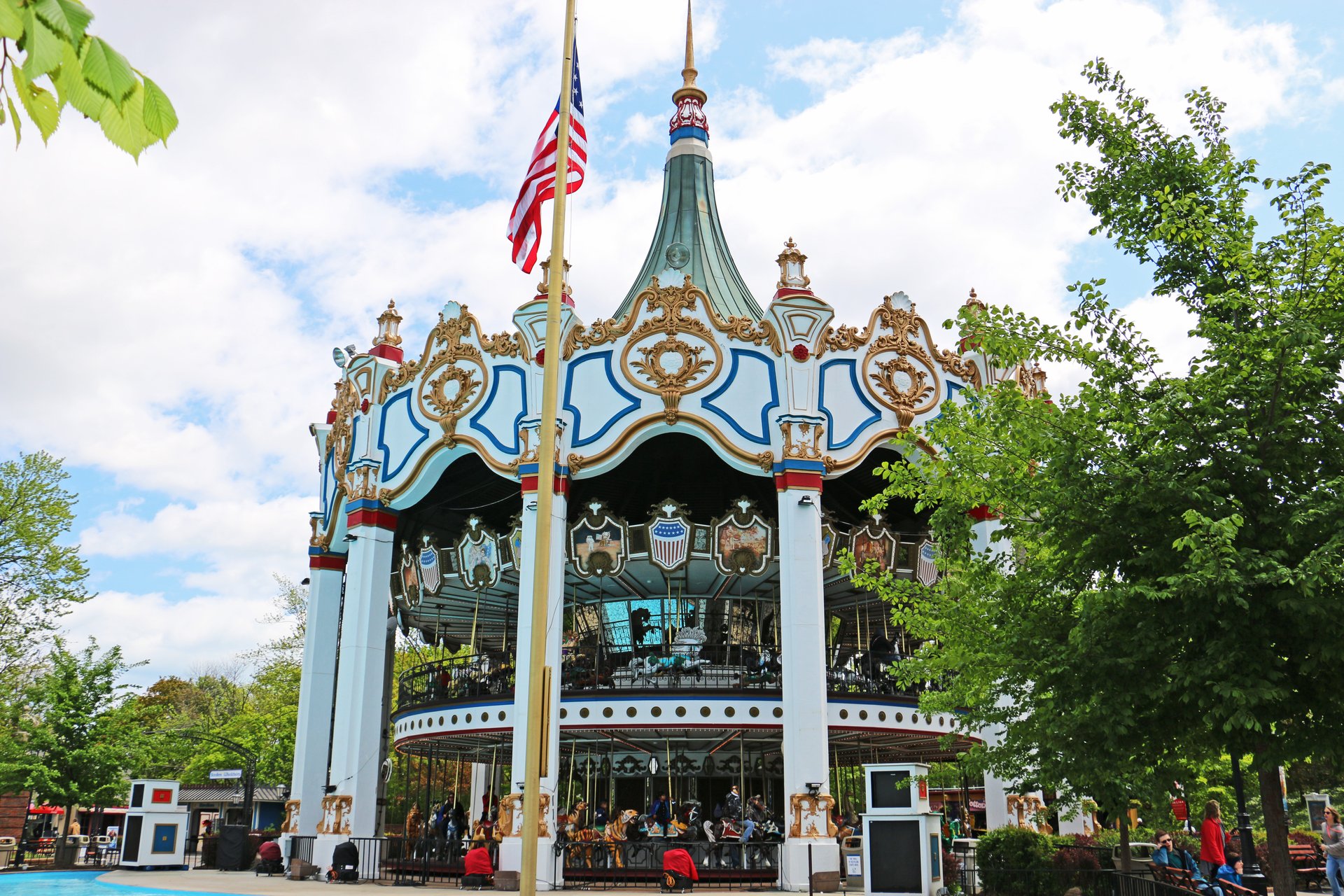 In the early 2000s both carousels received touches of red and blue paint. The original paint scheme was white with gold trim, however, some of the gold trim still remains.In the 2011/2012 off-season, Carousel Columbia at California's Great America was re-painted.
The original design of the carousel, then named "The Columbia", was carried out by Randall Duell Associates. Additional scrollwork and decorations were designed by Chris Mueller.
Each of the 106 horses, chariots, and animals on the carousels is a replica of one of the world's most famous carved carousel animals. A large reflecting pond was installed in front of each carousel with historic replicas of American flags flying along the sides of the pond. Today, the flags still fly.
Sixteen original oil paintings by George Gibson are installed on each carousel, depicting scenes from American history. Kris Rowberry publicized the fact, originally from the press release, that elements from Carousel Columbia were originally used on the sets of the films Marie Antoinette (1938) and The Swan (1956).
At 101 ft (31 m) tall, the Carousel Columbia in Santa Clara is the tallest carousel in the world. The sister Columbia Carousel in Gurnee stands just one foot shorter at 100 ft (30 m). The two sister carousels may be distinguished by the color of the roof – the Carousel Columbia in California is painted gold, while the Columbia Carousel in Illinois is green – and the flooring – Gurnee's carousel has carpet, while Santa Clara's has a wood floor.
The Columbia is often associated with the Carousel Song, written especially for the Marriott's Great America theme parks by Gene Patrick. The Carousel Song still plays at the Santa Clara park all day while it only plays at the Gurnee park during the evening when the park closes.
According to wikipedia